TRI-CITIES — More than 30 artists in 25 venues are featured during Tour d'Arts of the Tri-Cities.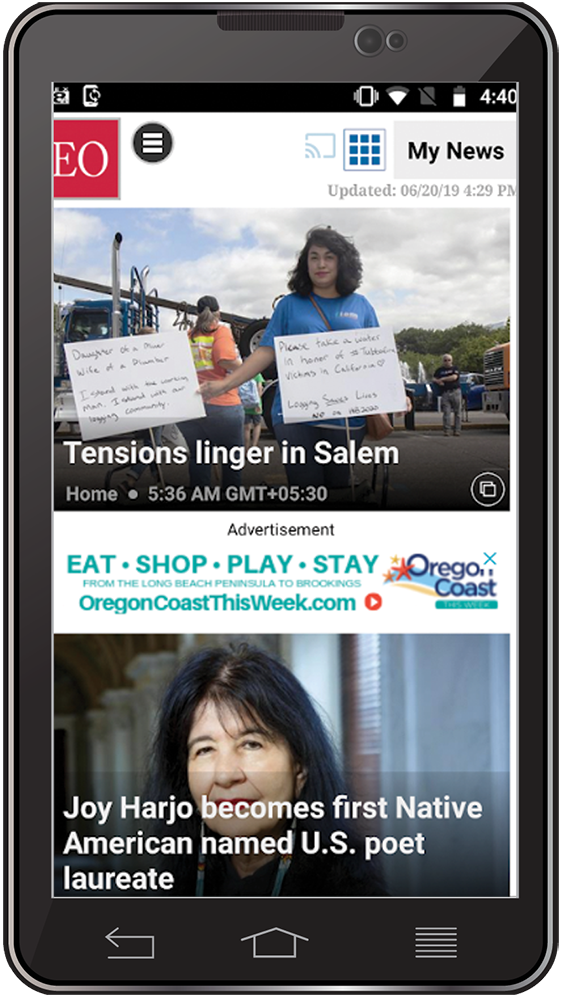 Get breaking news!
BOARDMAN — A pair of screenings of "Toy Story 4" are featured during the monthly movie event at the SAGE Center.
ECHO — Standard Deviation will crank up the tunes during an upcoming celebration in Echo.
LA GRANDE — A short film that will be screened during the Eastern Oregon Film Festival was shot entirely on the Oregon-Idaho border.
PENDLETON — A self-taught artist who works mostly in inks and paint is featured in a new exhibit at Pendleton Center for the Arts.
PENDLETON — The Bart Budwig Band is on a special tour that includes album-release shows for The Hackles.
PENDLETON — The East Oregonian will publish a new hardcover coffee-table book: "Umatilla County Memories: A Pictorial History of the mid-1800s through 1939."
PENDLETON — A hard-driving Celtic trio is returning to Pendleton.
HERMISTON — The Buttercreek Boys are back.
MILTON-FREEWATER — From "You Don't Bring Me Flowers" and "Song Sung Blue" to "Love On The Rocks" and "Sweet Caroline (Good Times Never Seemed So Good)," the hits of Neil Diamond are featured d…
WALLA WALLA — A Portland-based tribute band takes concert-goers on a musical journey featuring a full performance of Pink Floyd's 1977 album, "Animals," plus other of the band's classics.
LA GRANDE — The Eastern Oregon Film Festival is gearing up for its 10th annual event Oct. 24-26 in La Grande.
ONTARIO — The inaugural Eastern Oregon Mural Festival is planned in Ontario.
PENDLETON — A few musical acts from Portland are cruising into town on their way to the Modest Music Festival in Moscow, Idaho.
Swedish folk/Americana artist Sofia Talvik is prepped to release her latest album, "Paws of a Bear," via Makaki Music on Sept. 27.
PILOT ROCK — Calling all scallywags, an interactive murder mystery dinner is planned at The Break House at Schoolhouse Village in Pilot Rock.
WALLOWA COUNTY — A polka band, alphorns, Swiss yodeling, Alpine folk dancing, beer and bratwurst are all featured during Oregon's Alpenfest.
JOSEPH — The music of Bach, Bizet, Debussy, Leclair and Mozart are featured during the Summer Arts Classic.
ELGIN — The Elgin Opera House is staging the Broadway musical "Newsies."
PENDLETON — Just as the traditions of Pendleton Round-Up Week rides into town each September, top-notch bluegrass returns to Pendleton Center for the Arts.
PENDLETON — Residents and visitors to the Round-Up City will be treated to more than just rodeo this week — there's lots of free music in town.
PENDLETON — With Pendleton Round-Up riding into town, Live from the Leslie features a double shot of live music Sept. 13-14 at The Lodge in Pendleton.
PROSSER — Dixieland, jazz and ragtime music takes center stage as Blair Crimmins & The Hookers are performing in Prosser, Washington.
PENDLETON — Tickets are still available for the Pendleton Round-Up kickoff concert.
MILTON-FREEWATER — From disco hits to pop, top tunes of 1979 are featured during the upcoming Oldies Night in Milton-Freewater.
WALLA WALLA — Adam West (aka Batman) spent the first part of his life in Walla Walla and William Kirkman the last. They were separated by decades in life but have come together in a permanent …
ENTERPRISE — Billed as "The Sweetest Little Music Festival in Eastern Oregon," the 11th annual Juniper Jam is Saturday, Aug. 31 in Wallowa County.
BAKER CITY — The Powder River Music Review crescendos with its final concert of the season.
HERMISTON — Escape, a California-based tribute band, urges people to "Don't Stop Believin'" as they perform the songs of Journey.
RICHLAND — Acoustic music takes center stage as the Tumbleweed Music Festival kicks off a three-day event.
ENTERPRISE — People are encouraged to start making plans to attend the 11th annual Juniper Jam.
HELIX — Wheatstock Music Festival has continued to harvest success since its inaugural event 12 years ago.
HEPPNER — A La Grande-based band that describes their vibe as "the premier Americana sound" will play during Heppner's Music in the Park.
IRRIGON — Bringing his intoxicating vocals and magnetic personality, Cale Moon will present a high-energy performance as Morrow County's Music in the Parks crescendos.
MISSION — People are invited to enjoy dinner with the smooth jazz sounds of a Walla Walla duo.
PENDLETON — West Virginia native Greg Blake's powerful vocals are steeped in country heritage, developed from a lifetime of singing bluegrass, gospel, and country.
BOARDMAN — A Tacoma-based bluegrass trio that shares original tunes about foggy-mountain megamalls, big black cats, Iditarod sled dogs, rising rivers, grandmas online and Superman's dilemma wi…
PENDLETON — Describing their genre as "love songs," Pure Bathing Culture are the headliners for the upcoming Live from the Leslie show.
MILTON-FREEWATER — If you can't get no "Satisfaction" head to the upcoming Oldies Night in Milton-Freewater for hits from the Rolling Stones.
BAKER CITY — The Powder River Music Review continues to round up a variety of entertainers on Sunday afternoons in Baker City.
IRRIGON — A Yakima-based band with influences in alternative rock, grunge, punk, hard rock and psychedelic music will perform in Irrigon.
WALLA WALLA — A pair of living history presentations at Fort Walla Walla Museum will feature a pioneer missionary and Washington Territory's first governor.
PENDLETON — People are encouraged to tune in with a variety of genres as Wednesdays in the Park kicks off its fifth season.