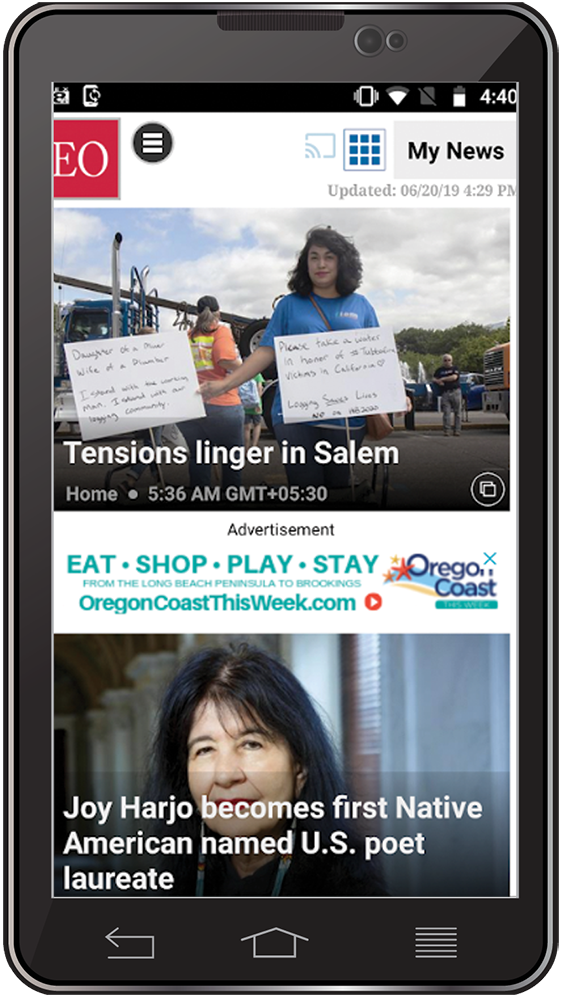 Get breaking news!
MILTON-FREEWATER — Ingle Chapel invites the public to its annual Soup & Pie Social/Fall Bazaar.
HERMISTON — Living Faith Church invites people to meet their new youth pastors.
WESTON — Donations are being accepted through Monday for the Friends of Weston Library (FOWL) annual used book sale.
ECHO — People will have an opportunity to learn more about CBD during the Hemp and Wine Harvest Fest.
HERMISTON — Rolls of new carpeting, bicycles, furniture and more are available during an upcoming parking lot sale at Agape House.
UMATILLA COUNTY — A Willamette Valley transplant will carve some fun at a couple of upcoming events at Bellinger Farms and Gourmet Shoppe, and the Echo Corn Maze & Pumpkin Patch.
WALLOWA — The circular dance arbor for the Tamkaliks Celebration Powwow & Potluck is in need of maintenance.
PENDLETON — Due to a forecast of inclement weather this weekend, Blue Mountain Wildlife is postponing its open house.
SALEM — The annual open enrollment for Medicare runs Oct. 15 through Dec. 7.
PENDLETON — The fall meeting of the Dirt Dabblers Garden Club features a "Great Pumpkin" theme.
HERMISTON — Tickets are on sale for Altrusa International of Hermiston's annual dinner and auction event.
ECHO — Food, drinks, scary movies, live music and kids' activities (including pumpkin painting, thanks to a donation from Bellinger Farms) are all featured during Echo OktoberFest.
HERMISTON — A pumpkin decorating activity is available to families at the Hermiston Public Library.
HERMISTON — The Hermiston Travel Club will welcome a representative of Collette Tours during its upcoming meeting.
PENDLETON — Harold Johnson is the featured author during Thursday's First Draft Writer's Series at Pendleton Center for the Arts, 214 N. Main St. The gathering begins at 7 p.m., and is free to…
PENDLETON — An author who writes young adult fiction/science fiction will present an Author Talk at the Pendleton Public Library.
HERMISTON — A Veteran's Appreciation Dinner is set for this Sunday.
PENDLETON — The entire family is invited to enjoy tours, falconry demonstrations, live music, kids activities, refreshments and more during an open house at Blue Mountain Wildlife.
PENDLETON — Grab your paint clothes and join the Rivoli Coalition for "Paint the Theater Day."
HERMISTON — An evening of fellowship features the singing of old hymns with new and old friends.
PENDLETON — Members of the congregation of Faith Lutheran Church voted unanimously on Sunday to call Jami Warne as pastor.
MILTON-FREEWATER — Frazier Farmstead Museum, 1403 Chestnut St., will host its third annual free Family Fall Festival Saturday from 11 a.m. to 4 p.m.
HERMISTON — The Hermiston High School Athletics Department and Simmons Insurance Agency are teaming up for a fundraiser to raise money for breast cancer awareness during the Friday Hermiston H…
PENDLETON — The Pendleton FFA Alumni & Friends Association invites individuals, businesses and service groups to help provide support for its annual dinner and auction.
PENDLETON — An evening of delicious food and drinks is featured during a fundraiser held in conjunction with Domestic Violence Awareness Month.
HERMISTON — In recognition of World Origami Days, a special display is featured at the Hermiston Public Library.
HEPPNER — The annual Heppner Booster Club dinner and auction offers a chance for an evening out while raising money for school athletic and club programs.
UMATILLA COUNTY — Local nonprofit organizations in Umatilla and Morrow counties are encouraged to submit an application for federal dollars received under the Emergency Food and Shelter Nation…
ECHO — Gina Tyhuis is excited for another season of sharing her love of agriculture with others at the Echo Corn Maze and Pumpkin Patch.
LA GRANDE — Sharma Shields will read from her work as the Carl and Sandra Ellston Ars Literary Lecture Series opens the 2019-20 season.
PENDLETON — Jack Simons, who recently retired from an agricultural consulting business, will make a presentation during the upcoming 3rd Tuesday Eastern Oregon Climate Conversation.
MILTON-FREEWATER — A town hall meeting will provide information about proposed ambulance rates in the Milton-Freewater Ambulance Service Area Health District.
HERMISTON — A cornucopia of resources — including giveaways, services and information — is available during the annual Project Community Connect & Veteran Stand Down.
PENDLETON — Live music, food, friends, fun and, of course, beer is on tap during Oktoberfest Pendleton.
HERMISTON — A variety of vendors offering home-based business products are featured during the Fall Women's Expo.
BOARDMAN — Kids and their families can create a creepy witch's cauldron or festive sugar skull magnet this weekend at the SAGE Center.
PENDLETON — Greg Goad, a lifelong farmer/rancher in the Pendleton area, will speak during the upcoming Umatilla County Democratic Party meeting.
PENDLETON — A presentation by wildlife biologist DeeAnne Meliopoulis is featured during the upcoming Pendleton Bird Club meeting.
HERMISTON — Grace and Mercy Lutheran Church invites the community as they celebrate the installation of their new pastor.
LA GRANDE — A night of fun and laughter will serve as a fundraiser to help build a youth center in Union County.
PENDLETON — Rep. Greg Barreto, R-Cove, will provide an update regarding this past legislative session during the upcoming Round-Up Republican Women's meeting.
PENDLETON — A handful of schools in Pendleton are participating in an initiative to increase safety as students walk and ride bicycles to school.
PENDLETON — People interested in learning more about their family roots are invited to attend a Terrific Tuesday event at Heritage Station Museum.
PENDLETON — The public is invited to kick up their heels during dance lessons provided by the Pendleton Contra Dance Community.
HERMISTON — The Columbia Grange is hosting breakfast, lunch and a flea market this weekend.
HERMISTON — With the warm days of summer behind us, the crisp autumn air is bringing fall celebrations to the area this weekend.
MILTON-FREEWATER — The Muddy Frogs Square Dance Club invites people to kick up their heels during free square dance lessons.
DAYTON — Visitors are invited to explore the town of Dayton, Washington, as the town hosts several activities this weekend.
ATHENA — Kimberly Miller, of Cannon Beach, is the guest speaker during the annual meeting of the Athena Caledonian Games.
MISSION — The public is invited to an artist's talk and reception for Yoonhee Choi.
PENDLETON — A cleanup event in preparation for an upcoming open house is this weekend at Blue Mountain Wildlife.
MORROW COUNTY — People who are interested in the Morrow County Historical Society are invited to attend its annual meeting.
PENDLETON — Kathryn Brown is the guest speaker for the upcoming general membership meeting of the American Association of University Women.
PENDLETON — Anastasiia Rozykova, a member of Saints Peter and Paul Cathedral in Moscow, Russia, will present a program in Pendleton.