BEND — Jason Thomas is going nuts.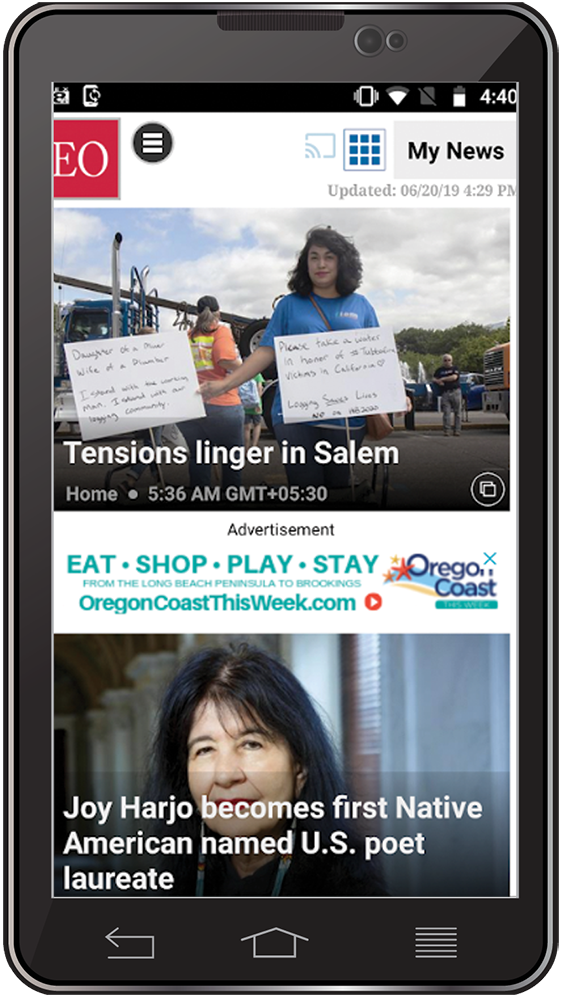 Get breaking news!
UMATILLA COUNTY — The annual Holiday Charity Drive for local nonprofit organizations is underway at local branches of Community Bank, including Pendleton, Hermiston and Milton-Freewater.
BAKER CITY — Baker Technical Institute is teaming up with Waste Management Pacific Northwest to provide heavy equipment operator training at its Columbia Ridge Landfill in Arlington.
STAYTON — Bankrupt Oregon fruit and vegetable cooperative NORPAC warned Wednesday it will be shutting down its two facilities in Salem, leading to layoffs of more than 900 employees.
SALEM — Unemployment tax rates for employers subject to Oregon payroll tax will move to tax schedule two for the 2020 calendar year.
PENDLETON — EO Media Group has relaunched its monthly real estate magazine to include all of its markets in northeast Oregon.
HEPPNER — Columbia Basin Electric Co-Op will be searching for a new CEO after Thomas Wolff announced his retirement.
PENDLETON — Honey from Blue Mountain Apiary of Pendleton took third place at the fall conference of the Oregon State Beekeepers Association.
UMATILLA COUNTY — Pacific Power will match up to $144,000 in customer donations to the Oregon Energy Fund this November.
HEPPNER — BEO Bancorp and its subsidiary, Bank of Eastern Oregon, announced third-quarter 2019 consolidated net income of $1,229,000 or $1.04 per share, compared with $1,196,000 or $1.01 per s…
SALEM — The Oregon Liquor Control Commission has produced a podcast that focuses on the issues surrounding marijuana vaping and the national outbreak of a respiratory illness.
UMATILLA COUNTY — The Oregon Public Utility Commission has approved a rate increase for the state's three regulated utilities, including Cascade Natural Gas, starting Nov. 1.
PENDLETON — Developer Nate Brusselback was recently awarded a $10,000 grant from the Energy Trust of Oregon for upgrades at his South Hills Apartment Complex, 248 S.W. 28th Drive. The grant wi…
WASHINGTON — U.S. new home sales fell slightly in September with all regions of the country except the Midwest showing declines.
SALEM — The head of Oregon's economic development agency will be stepping down at the end of the year, the agency said Thursday.
SALEM — Farm work is a whole lot safer than it used to be. But as far as SAIF is concerned, even one injury or illness is too many.
HERMISTON — Financial planning services are available at the newly opened Legacy Financial office in Hermiston.
LA GRANDE — Tres Shannon, Voodoo Doughnuts co-founder, is the featured speaker for the Fall Pub Talk of Eastern Oregon University's Entrepreneurship Club (eClub).
Grit and Ink serialization: Part VII
PENDLETON — An upcoming regional event will provide employers across Eastern Oregon an opportunity to have access to the workforce.
The old Payless Shoe Store building in Hermiston won't stay empty for long after the shoe retailer went out of business this summer.
SALEM — Pumpkins, apples, pears, and squash are just a few examples of the favorites of fall harvest. If you want to venture out into the beautiful countryside and buy seasonal food directly f…
STANFIELD — Quilt enthusiasts and city officials gathered Friday morning to celebrate the opening of Mama Bear's Quilt Shop in Stanfield.
HERMISTON — The old Payless Shoe Store building in Hermiston won't stay empty for long after the shoe retailer went out of business in summer.
Grit and Ink serialization: Part VI
SALEM — According to a press release from Rep. Greg Barreto, the Oregon Bureau of Labor and Industries has extended the recruitment for the new Eastern Oregon Employer Assistance and Apprentic…
HERMISTON — The Energy Trust of Oregon recently teamed up with Hermiston's Eastern Oregon Heating and Air Conditioning to offer reduced pricing on an energy-efficient heat pump upgrade.
HERMISTON — Good Shepherd Health Care System has hired geriatrician and internal medicine physician Nu Nwe Tun, MD.
Grit and Ink serialization: Part V
PORTLAND — John Hairston will be the Bonneville Power Administration's new chief operating officer following the retirement of Janet Herrin on Monday. Hairston has served in numerous leadershi…
WILSONVILLE — A new learning program is being launched for public and private sector tourism professionals.
HEPPNER — The upcoming Heppner Chamber of Commerce meeting will feature an all-entities report.
BOARDMAN — Last month, the Department of Environmental Quality issued nine penalties across the state, including two businesses in Eastern Oregon that are now filing appeals against the complaints.
Outdoors RV, based in La Grande, celebrates the production of its 20,000th unit with its local Outdoors RV dealer, Thompson RV of Pendleton. Thompson RV was one of the first RV dealers to sign…
SALEM — Policyholders with the State Accident Insurance Fund Corp. in Oregon will receive $160 million in dividends this year, the nonprofit workers compensation insurer announced Wednesday.
Grit and Ink serialization: Part IV
PENDLETON — The Small Business Development Center at Blue Mountain Community College is kicking off its fall workshop series with a pair of classes in Pendleton.
Grit and Ink serialization: Part III
PENDLETON — A dozen Umatilla County employees recently completed the inaugural year of the Umatilla County Leadership Academy.
SALEM — The State Accident Insurance Fund's board of directors declared a $120 million primary dividend to be paid to policyholders based on their premium, and a $40 million safety performance…
WASHINGTON, D.C. — The Market Facilitation Program, a U.S. Department of Agriculture program to assist farmers who continue to suffer from damages because of unjustified trade retaliation from…
HERMISTON — Pac/West Communications moved into its new digs in Hermiston as part of the company's plan to expand government affairs and public relations services to Eastern Oregon and Washington.
PORTLAND — A critical navigation lock at the mighty Bonneville Dam on the Columbia River has shut down because of cracked concrete, meaning huge barges that transport millions of tons of wheat…
Grit and Ink serialization: Part II
BOARDMAN — During National Ice Cream Month (July), the Oregon Dairy and Nutrition Council embarked on an effort to identify the state's landmark ice cream shops.
PENDLETON — Local youth organizations can earn up to $1,000 through a U.S. Cellular program.
HERMISTON — When a Corvallis LEGO store announced they were going out of business, Julie and Bobby Lara saw the perfect opportunity to get into the LEGO business themselves.
PENDLETON — Karen Willis has been hired as the new School to Careers coordinator for the Pendleton School District.
HERMISTON — Walmart announced Monday that it will be hiring 100 additional associates to fill orders at its Hermiston distribution center.
Grit and Ink serialization: Part I
The tiny Eastern Oregon town of Echo — with all of 700 residents — boasts a full measure of resident wineries with the 2012 establishment of Echo Ridge Cellars at the southwestern edge of town.
PENDLETON — Businesses in eight Eastern Oregon counties could qualify for money to remain competitive.
PENDLETON — The Rainbow Cafe in Pendleton made Microsoft News' list of the "Best Hole-in-the-Wall Spots for Fried Chicken in Every State."
BOARDMAN — Free food, fun and fellowship is planned during the Boardman Community Night Out.
BEND — The new editor of The Bulletin and Redmond Spokesman will be Gerard O'Brien, the general manager and editor of the Herald and News in Klamath Falls.