Grit and Ink serialization: Part III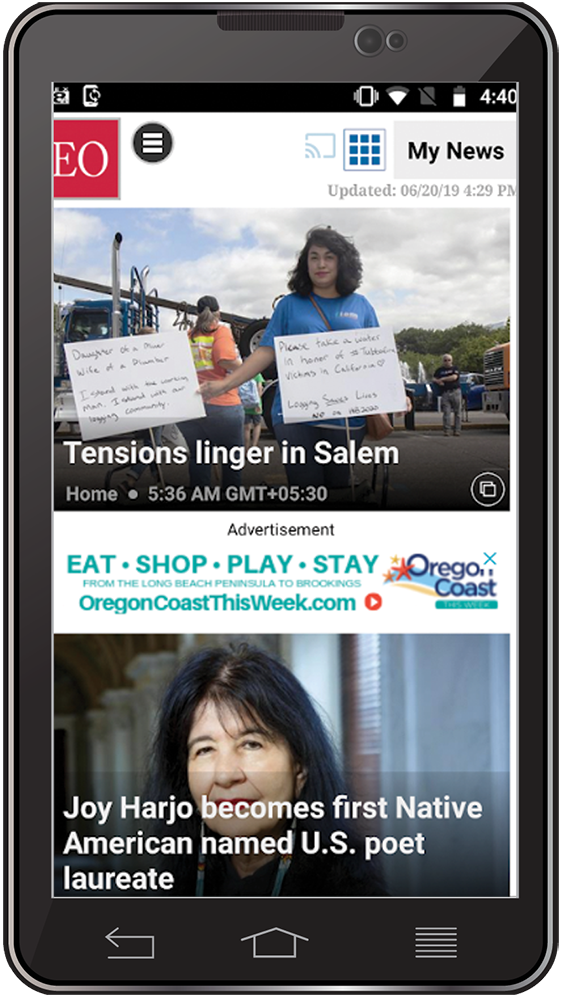 Get breaking news!
PENDLETON — A dozen Umatilla County employees recently completed the inaugural year of the Umatilla County Leadership Academy.
SALEM — The State Accident Insurance Fund's board of directors declared a $120 million primary dividend to be paid to policyholders based on their premium, and a $40 million safety performance…
WASHINGTON, D.C. — The Market Facilitation Program, a U.S. Department of Agriculture program to assist farmers who continue to suffer from damages because of unjustified trade retaliation from…
HERMISTON — Pac/West Communications moved into its new digs in Hermiston as part of the company's plan to expand government affairs and public relations services to Eastern Oregon and Washington.
PORTLAND — A critical navigation lock at the mighty Bonneville Dam on the Columbia River has shut down because of cracked concrete, meaning huge barges that transport millions of tons of wheat…
Grit and Ink serialization: Part II
BOARDMAN — During National Ice Cream Month (July), the Oregon Dairy and Nutrition Council embarked on an effort to identify the state's landmark ice cream shops.
PENDLETON — Local youth organizations can earn up to $1,000 through a U.S. Cellular program.
HERMISTON — When a Corvallis LEGO store announced they were going out of business, Julie and Bobby Lara saw the perfect opportunity to get into the LEGO business themselves.
PENDLETON — Karen Willis has been hired as the new School to Careers coordinator for the Pendleton School District.
HERMISTON — Walmart announced Monday that it will be hiring 100 additional associates to fill orders at its Hermiston distribution center.
Grit and Ink serialization: Part I
The tiny Eastern Oregon town of Echo — with all of 700 residents — boasts a full measure of resident wineries with the 2012 establishment of Echo Ridge Cellars at the southwestern edge of town.
PENDLETON — Businesses in eight Eastern Oregon counties could qualify for money to remain competitive.
PENDLETON — The Rainbow Cafe in Pendleton made Microsoft News' list of the "Best Hole-in-the-Wall Spots for Fried Chicken in Every State."
BOARDMAN — Free food, fun and fellowship is planned during the Boardman Community Night Out.
BEND — The new editor of The Bulletin and Redmond Spokesman will be Gerard O'Brien, the general manager and editor of the Herald and News in Klamath Falls.
HERMISTON — Cancer patients won't have to travel as far for all of their appointments after the Tri-Cities Cancer Center opened a satellite office in Hermiston.
HERMISTON — A banner advertising a "Store Closing" sale at Bealls had Hermiston residents worried they were losing one of their few clothing stores, but the change is more of a re-brand than a…
McMINNVILLE, Ore. — McMinnville, 1971. When a handful of pioneering farmers bought land on the outskirts of this modest rural town and decided to plant wine grapes, people called them crazy. W…
WILLAMETTE FALLS — The Confederated Tribes of Grand Ronde finalized their purchase of the former Blue Heron paper mill site at Willamette Falls on Wednesday.
HERMISTON — The inaugural food truck pod in Hermiston has a new addition.
PENDLETON — One of the largest dermatology groups in the Northwest, Silver Falls Dermatology, will be opening its doors in Pendleton next month.
MISSION — A lawn party is planned at Arrowhead Travel Plaza.
PORTLAND — You don't start a business called Made in Oregon because you want — or expect — to collect sales tax. After all, Oregon has no sales tax. It's a feature of the state as iconic as th…
PORTLAND — Top honors for cleanliness were recently awarded to 181 Oregon hotels, including three local properties.
HEPPNER — BEO Bancorp and its subsidiary, Bank of Eastern Oregon, announced net income for the second quarter of 2019 was down, but attributed that to the acquisition and startup costs of Wash…
HERMISTON — Pac/West Communications announced it hired former East Oregonian managing editor Daniel Wattenburger of Hermiston as an account manager.
PENDLETON — Tammy and Amber Heath of Pendleton recently opened a Dream Vacations franchise.
HEPPNER — The Bank of Eastern Oregon is collecting school supplies for local elementary schools.
HERMISTON — Walmart is hiring 130 new truck drivers in the Pacific Northwest, and Hermiston is landing 30 of those jobs.
TULSA, Okla. — Debbie Baker thought she qualified for a federal program that helps teachers like her as well as nurses, police officers, librarians and others. The Department of Education prog…
SALEM — Oregon OSHA (Occupational Safety and Health Administration) is seeking creative ideas related to workplace safety or health training programs.
HEPPNER — The upcoming Heppner Chamber of Commerce luncheon will feature an introduction and training session for the new website.
BOARDMAN — An upcoming Bureau of Labor and Industry (BOLI) seminar will provide information regarding leave laws, including Oregon Family Leave Act and the federal Family and Medical Leave Act…
SALEM — Last year's federal Farm Bill relaxed restrictions on growing hemp, a non-psychoactive variety of the cannabis plant. That's big news for Oregon farmers, but there's still a lot to lea…
BATTLE GROUND, Wash. — On July 1, Washington stopped letting Oregon shoppers skip paying sales tax at the register, with a few exceptions. Some businesses in Southwest Washington fear the chan…
WILSONVILLE — The Bank of Eastern Oregon is proud to announce that five Bank of Eastern Oregon employees and one from Bank of Eastern Washington (which is a branch of BEO) recently graduated f…
TIGARD — The Oregon State Bar will host a free public seminar addressing significant changes to landlord-tenant laws in Oregon
While the forested and snow-capped Wallowa Mountains and the city of Joseph may get all the tourist glory, Imnaha has its own special landscape to offer. But one of its most iconic landmarks i…
SALEM — Oregon OSHA has launched a free online course to help employers and workers across the state meet the agency's requirements to eliminate fall hazards, prevent falls, and ensure that wo…
PENDLETON — Two new faces have joined the East Oregonian this summer.
HERMISTON — Hermiston's fast food offerings are about to expand with the addition of a Panda Express.
PENDLETON — Energy Trust of Oregon hired Pendleton resident Caryn Appler as its outreach manager for Eastern Oregon.
PORTLAND — Portland will soon house the Northwest's first Ritz-Carlton hotel.
JOSEPH — Artist Doug Hyde will finish installing the latest bronze statue on Main Street today in the Eastern Oregon city of Joseph. The road has become a showcase for the bronze foundries dot…
UNION — The small town of Union has its first brick-and-mortar financial institution in seven years.
BOARDMAN — Dr. James Burgess of Country Animal Hospital in Hermiston is teaming up with the city of Boardman to help pet owners in keeping their cats and dogs current on vaccinations.
Wild Goose Design in downtown Hermiston is hosting artist Laura Gable on June 6.
A nurse practitioner and a tire shop owner are teaming up to open Pendleton's first ozone therapy facility.
Farm City Fence is holding an open house to celebrate changes to the business.
PENDLETON — A two-day event in Pendleton provides an opportunity to improve workplace health and safety programs.
BOARDMAN — Morrow County employers are invited to participate in a free workshop that helps in connecting talented young professionals to local businesses.
HERMISTON — The taste buds have all been tallied — Trina's Mexican Food was deemed the winner of the inaugural Tastiest Taco contest.