WASHINGTON — It's time to do your taxes — no more delays.
MEXICO CITY — For the first time in almost a century, Mexico has canceled its professional baseball season, the Mexican Baseball League announced Wednesday, July 1.
ST. PETERSBURG, Fla. (AP) — Coronavirus cases are climbing rapidly among young adults in a number of states where bars, stores and restaurants have reopened — a disturbing generational shift t…
BOISE, Idaho — Hundreds of thousands of dollars in coronavirus relief payments have been sent to people behind bars across the United States, and now the IRS is asking state officials to help …
NEW YORK — Ahead of the Juneteenth holiday weekend's demonstrations against systemic racism and police brutality, a majority of Americans say they approve of recent protests around the country…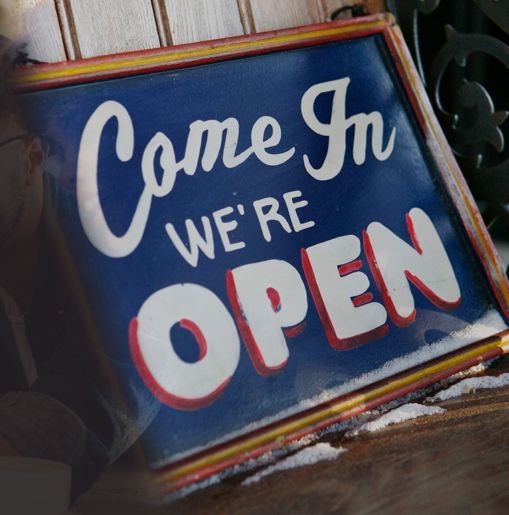 Are you open for business, or planning to reopen? 
Reach your customers with the help of EO Media Group's Community Marketing Grant Program
WASHINGTON — About 1.5 million laid-off workers applied for U.S. unemployment benefits last week, evidence that many Americans are still losing their jobs even as the economy appears to be slo…
WASHINGTON — U.S. consumer spending plunged by a record-shattering 13.6% in April as the coronavirus pandemic shuttered businesses, forced millions of layoffs and sent the economy into a deep …
WASHINGTON — Only about half of Americans say they would get a COVID-19 vaccine if the scientists working furiously to create one succeed, according to a new poll from The Associated Press-NOR…
OMAHA, Neb. — As food banks have struggled to meet soaring demand from people suddenly out of work because of the coronavirus pandemic, it has been especially troubling to see farmers have to …
ATLANTA — Americans marked a Memorial Day like no other Monday as the coronavirus pandemic upended traditional commemorations and forced communities to honor the nation's military dead with sm…
WASHINGTON — House Speaker Nancy Pelosi on Wednesday defended the stunning $3 trillion price tag on Democrats' pandemic relief package as what is needed to confront the "villainous virus" and …
WASHINGTON — The Treasury Department and the IRS are urging taxpayers who want to get their economic impact payments directly deposited to their bank accounts to enter their information online…
WASHINGTON — Don't inject disinfectants, health officials leapt to warn on Friday, reacting to President Donald Trump's comment that disinfectants perhaps could be injected or ingested to figh…
WASHINGTON — President Donald Trump signed a $484 billion bill on Friday to aid employers and hospitals under stress from the coronavirus pandemic that has killed more than 50,000 Americans an…
WASHINGTON — Congress delivered a nearly $500 billion infusion of coronavirus spending Thursday, rushing new relief to employers and hospitals buckling under the strain of a pandemic that has …
WASHINGTON — President Donald Trump has made himself the daily spokesman for the nation's coronavirus response. Yet, few Americans regularly look to or trust Trump as a source of information o…
NEW YORK — Calling nursing homes ground zero of the coronavirus crisis, federal officials said Monday they plan to start tracking and publicly sharing information on infections and deaths in s…
WASHINGTON — President Donald Trump gave governors a road map Thursday for recovering from the economic pain of the coronavirus pandemic, laying out "a phased and deliberate approach" to resto…
WASHINGTON — Government relief checks began arriving in Americans' bank accounts as the economic damage to the U.S. from the coronavirus piled up Wednesday and sluggish sales at reopened store…
GENEVA — Nations around the world reacted with alarm Wednesday after President Donald Trump announced a halt to the sizable funding the United States sends to the World Health Organization. He…
WASHINGTON — Setting the stage for a possible power struggle with President Donald Trump, governors around the U.S. began collaborating on plans Tuesday to reopen their economies in what is li…
ORLANDO, Fla. — The U.S. Census Bureau wants to delay deadlines for the 2020 head count of all U.S. residents because of the coronavirus outbreak, a move that if approved by lawmakers would pu…
WASHINGTON — President Donald Trump asserted Monday that he is the ultimate decision-maker for determining how and when to relax the nation's social distancing guidelines as he grows anxious t…
WASHINGTON — The federal government's budget deficit for the first half of this budget year totaled $743.6 billion, up 7.6% from last year, and well on its way to topping $1 trillion even befo…
CHICAGO — Paramedics rushed another critical COVID-19 patient into the emergency room, and Chicago nurse Cynthia Riemer felt her adrenaline kick in.
JERUSALEM — Christians are commemorating Jesus' crucifixion without the solemn church services or emotional processions of past years, marking Good Friday in a world locked down by the coronav…
BALTIMORE — President Donald Trump has been telling voters that the U.S. economy will leap back to life "like a rocket," stronger than ever after its bout with the coronavirus.
WASHINGTON — President Donald Trump has removed the inspector general tapped to chair a special oversight board of the $2.2 trillion economic package intended to help businesses and individual…
WASHINGTON — As the coronavirus spread across the world and began its reach into the United States, an assortment of Americans from the president on down summoned one notion as they framed the…
WASHINGTON — The first national data on COVID-19 in United States children suggest that while the illness usually isn't severe in kids, some do get sick enough to require hospital treatment.
CHICAGO — Americans in overwhelming numbers are actively avoiding others as much as possible and taking additional steps to protect themselves from the coronavirus, according to a survey from …
WASHINGTON — President Donald Trump is resisting calls to issue a national stay-at-home order to stem the spread of the new coronavirus despite his administration's projections that tens of th…
NEW YORK — The U.S. death toll from the coronavirus climbed past 3,500 Tuesday, eclipsing China's official count, as hard-hit New York City rushed to bring in more medical professionals and am…
WASHINGTON — The human and economic toll of the lockdowns against the coronavirus mounted Thursday as India struggled to feed the multitudes, Italy shut down most of its industry, and a record…
PORTLAND — Oregon's U.S. senators hailed Wednesday's passage of a $2 trillion coronavirus rescue package, even as they hunkered down in their offices to ride out the outbreak.
WASHINGTON — President Donald Trump said on Thursday that federal officials are developing guidelines to rate counties by risk of virus spread, as he aims to begin to ease nationwide guideline…
WASHINGTON (AP) — Congressional and White House officials said Tuesday they were closing out final details of unprecedented legislation to rush sweeping aid to businesses and workers facing ru…
AUSTIN, Texas — Governors across the nation on Tuesday rejected President Donald Trump's new accelerated timeline for reopening the U.S. economy, as they continued to impose more restrictions …
ORLANDO, Fla. — The U.S. Census Bureau is delaying the deadline for counting everyone in the U.S. by two weeks because of the spreading novel coronavirus, officials said on Friday.
WASHINGTON — President Donald Trump has invoked the Defense Production Act to get needed medical supplies on the front lines of the coronavirus outbreak and the private sector mobilized against it.
NEW YORK — One of the nation's bank regulators is urging Americans not to withdraw large sums of cash and to beware of fraudsters claiming that banks are limiting customers' access to their money.
WASHINGTON — The Treasury Department said on Wednesday it wants to dedicate $500 billion to start issuing direct payments to Americans by early next month as the centerpiece of a $1 trillion p…
WASHINGTON — Confronting twin health and economic crises, President Donald Trump announced Wednesday he will invoke emergency powers to marshal critical medical supplies against a coronavirus …
OHSU Hospital hopes to roll out in-house coronavirus testing and lab analysis by March 25, if not sooner, a spokeswoman said Monday. If that timeframe holds, it's about a week later than hospi…
WASHINGTON — Millions of Americans holed up at home against the coronavirus on Monday, with many of them thrown out of work until further notice, as authorities tightened the epic clampdown an…
WASHINGTON — President Donald Trump a nnounced Friday that he is declaring the coronavirus pandemic a national emergency, as Washington struggles with providing Americans with relief and offic…
BANGKOK — The global march of the new virus triggered a vigorous appeal Thursday from the World Health Organization for governments to pull out "all the stops" to slow the epidemic, as it drai…
BEIJING — China on Monday pledged its support for the U.S.-Taliban peace agreement in Afghanistan and called for the "orderly and responsible" withdrawal of foreign troops to avoid a power vac…
ORLANDO, Fla. — Most Americans say they are likely to participate in the 2020 census, but some doubt that the U.S. Census Bureau will keep their personal information confidential, a new poll shows.
MUNICH — A senior U.S. official said Friday the United States and the Taliban have reached a truce agreement that will take effect "very soon" and could lead to withdrawals of American troops …
NEW YORK — Tony Rankins, a formerly homeless, drug-addicted Army veteran, got a standing ovation at the State of the Union after President Donald Trump described how he turned his life around …
WASHINGTON — With the start of the 2020 census just a month away for most U.S. residents, the U.S. Census Bureau is behind in recruiting workers and establishing partnerships with civic groups…
BEIJING — China denied involvement in any hacking activities on Tuesday after the United States indicted four members of the Chinese military for allegedly breaking into the computer networks …
WASHINGTON — Exulting in his impeachment acquittal, a defiant President Donald Trump took a scorched-earth victory lap Thursday, unleashing his fury against those who tried to remove him from …
BEIJING — China finished building a second new hospital Thursday to isolate and treat patients infected with the new coronavirus and moved people with milder symptoms into makeshift quarantine…