SALEM — You could say that Oregon is a bit "odd."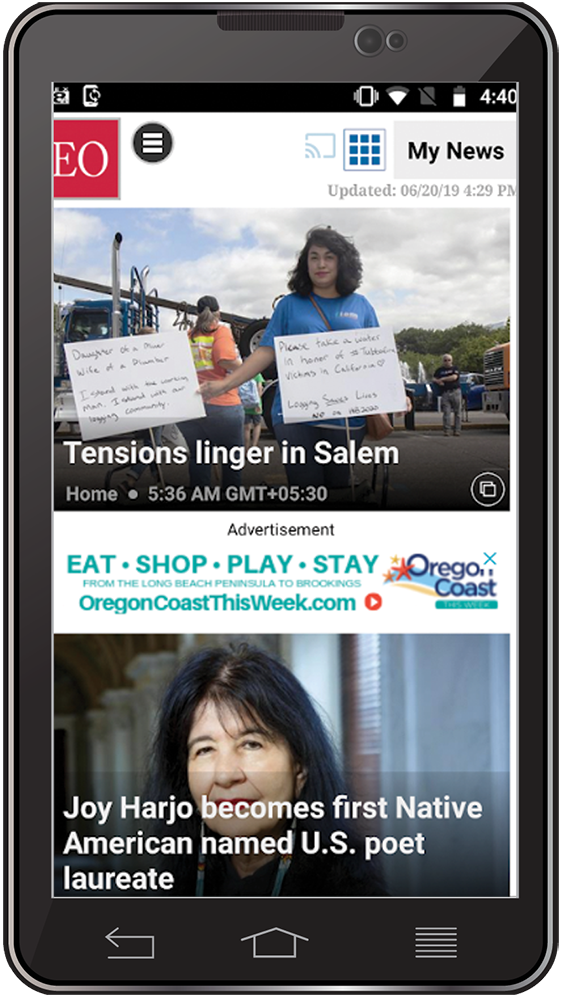 Get breaking news!
SALEM — A Canadian energy company on Friday withdrew its application for a state permit for a controversial natural gas pipeline and export terminal in Oregon, and a project spokesman said it …
Crafting climate change policy in the wake of a landmark bill that failed last year is a top priority during the upcoming short legislative session for Oregon Gov. Kate Brown, she told a forum…
SALEM — The Oregon Parks and Recreation Department is looking for qualified candidates to apply to the agency's Local Government Grant Program Advisory Committee, according to a press release.
JOSEPH — A large portion of the moraine that frames Eastern Oregon's iconic Wallowa Lake has been purchased and protected from development.
SALEM — Are they an annoyance? A convenience? Do they destroy jobs?
SALEM — The state's Public Records Advisory Council rejected Wednesday an attempt to restrict its independence. At the same time, the 13-member council said it would fight attempts to block it…
VALE — A Malheur County woman and her children will not receive compensation from the state for a deadly 2017 crash in the wake of a decision last week by Malheur County Circuit Court Judge Er…
SALEM — Legislators will roll up their sleeves for some speedy politicking in February, tackling some of Oregon's thorniest problems.
Commissioners from Baker, Harney, Grant, Malheur and Lake counties voted unanimously today to appoint Mark Owens, a Harney County farmer, to replace Lynn Findley as representative for Oregon H…
SALEM — For Irvin Hines, visits from his kids can be stressful.
PORTLAND — Marijuana sales in Oregon along the Idaho state line are 420% the statewide average, according to a state report.
SALEM — Tobias Read has reason to feel good about his reelection chances this year.
SALEM — Two controversial energy projects in the Columbia River Gorge area could move forward as the result of a ruling by the Oregon Supreme Court.
SALEM — Oregon Gov. Kate Brown said Friday that passing legislation aimed at stemming global warming was her top priority when lawmakers return to the Capitol next month and she was "cautiousl…
SALEM — About 21,800 Oregonians risk losing government benefits to help them buy food if a proposed federal rule goes into effect in April.
SALEM — Oregon's gun owners will face penalties for not securing their firearms when not in use under a proposal that's likely be introduced in the upcoming legislative session.
SALEM — A county judge in Oregon on Thursday ordered the secretary of state to process two clean energy ballot initiatives that environmentalists want to bring before voters in November, after…
SALEM — One question has lingered in political circles in the days since Democratic legislators unveiled their latest plan to limit the state's greenhouse gas emissions.
SALEM — Oregon Gov. Kate Brown is calling for a major expansion in the state's wildfire response plans in a new legislative concept lawmakers heard on Tuesday.
Snowpack in Oregon and Washington have rebounded significantly over the last two weeks thanks to recent winter storms that have dumped several feet of fresh mountain snow.
PORTLAND — Despite crude oil price fluctuation and growing geopolitical concerns with Iran in the last week, pump prices remain fairly steady, according to AAA Oregon/Idaho.
SALEM — A climate change bill that promises to dominate this year's 2020 Oregon legislative session got its first public hearing Monday — with little sign that the political and cultural disag…
Senate President Peter Courtney, D-Salem, is out of the Capitol this week while being treated for a hip injury at Oregon Health & Science University, according to his office.
Jimmy Crumpacker, a Tumalo businessman and Republican, announced his bid for Oregon's 2nd Congressional District on Monday.
SALEM — More than 145,000 Oregonians signed up for health insurance through HealthCare.gov during open enrollment last month.
A 933-acre logging project on U.S. Bureau of Land Management property in Southern Oregon is accused of violating federal law by environmentalists who seek to overturn its authorization.
SALEM — The Oregon state legislature's short session begins Feb. 3, with lawmakers planning to resurrect climate legislation after last session's controversial "cap-and-trade" proposal failed.
SALEM — Less than a month before legislators convene again, a new proposal to cap Oregon's greenhouse gas emissions is taking firmer shape.
Oregon Department of Justice unveils labor abuse task force
SALEM — Oregon House Speaker Tina Kotek says Oregon's crisis of unsheltered homelessness has reached emergency status.
SALEM — Deputy Secretary of State Rich Vial has resigned his position.
SALEM — Proponents of two clean-energy initiatives on Wednesday sued Secretary of State Bev Clarno to reverse her decision stopping the groups from advancing initiatives for the November election.
PORTLAND — Gas price averages are showing little movement this week, according to the latest report from AAA Oregon, but that could change if crude oil prices fluctuate due to geopolitical con…
McDERMITT — Right along the Oregon border with Nevada, near one of the oldest houses in Malheur County, stands a tribute to veterans who have committed suicide.
A Deschutes County sheriff's deputy responding to an emergency call on U.S. Highway 97 on Sunday night collided with another driver in a three-car crash that sent the drivers to the hospital.
SALEM — A federal judge compared state Sen. Brian Boquist to the actor Clint Eastwood and a playground bully Tuesday in dismissing the Dallas Republican's claims that Senate President Peter Co…
SALEM — Despite Oregon's widespread housing shortage, the amount of housing built in the state during the last decade reached a record low.
SALEM — Oregon Department of Corrections Director Colette Peters has appointed three new people to manage key functions at the department that operates 14 institutions and employs thousands of…
SALEM — State Rep. Lynn Findley, R-Vale, was chosen Monday by county commissioners representing a wide swath of Eastern Oregon to succeed Cliff Bentz, who resigned his post Jan. 1.
SALEM — Although reports of sexual abuse in juvenile correctional facilities across the nation have declined in past years, Oregon's correctional facility for girls and young women was ranked …
REDMOND — At a town hall meeting Saturday, U.S. Sen. Jeff Merkley, D-Ore., addressed the potential for war following the assassination of Iranian military commander Maj. Gen. Qassem Soleimani.…
A 20-year-old Wyoming man is safe after becoming lost in the Badlands east of Bend and spending the night in freezing conditions.
Early season snowfall is lagging again across Oregon heading into the new year, potentially foreshadowing another dry and difficult summer ahead for farmers and ranchers. But as 2019 proved, t…
SALEM — Gagandeep Singh was traveling south on Interstate 5 near Woodburn when smoke started boiling up from under his Volvo tractor-trailer and filling his driver's cabin.
As the nation heads into the 2020 census, Oregon appears more likely than ever to gain a sixth congressional seat, according to new population estimates.
Witnesses feared the worst moments before a fatal plane crash in August 2017 involving a California man who was on his way to Madras for the total solar eclipse.
Here's some good news at the tail end of a particularly contentious political year. It's a story of how a group of Beaverton fifth graders navigated the intense and dramatic legislative sessio…
SALEM — Scientists are forecasting that the Pacific Northwest's most active volcano will erupt sometime between 2020 and 2024.
SALEM — The Oregon Emergency Communications tax rate will increase from 75 cents to $1 beginning Jan. 1. This is the first increase to the 911 tax since 1995.
SALEM — Summer Warner has one of those jobs crucial to state government, but rarely talked about. 
SALEM — Looking back on the environmental news that dominated headlines in 2019, it's easy to see that in Oregon and Southwest Washington, three topics — forestry, climate change and fights ov…
Two people were arrested during a human trafficking investigation in southeast Bend on Christmas Eve.
BEAVERTON — Here's some good news at the tail end of a particularly contentious political year.
SALEM — Environmental advocates petitioned the Oregon Environmental Quality Commission Friday for new regulations on diesel emissions from construction site vehicles and other non-road sources.