SALEM — For the third time this year, the recall is off.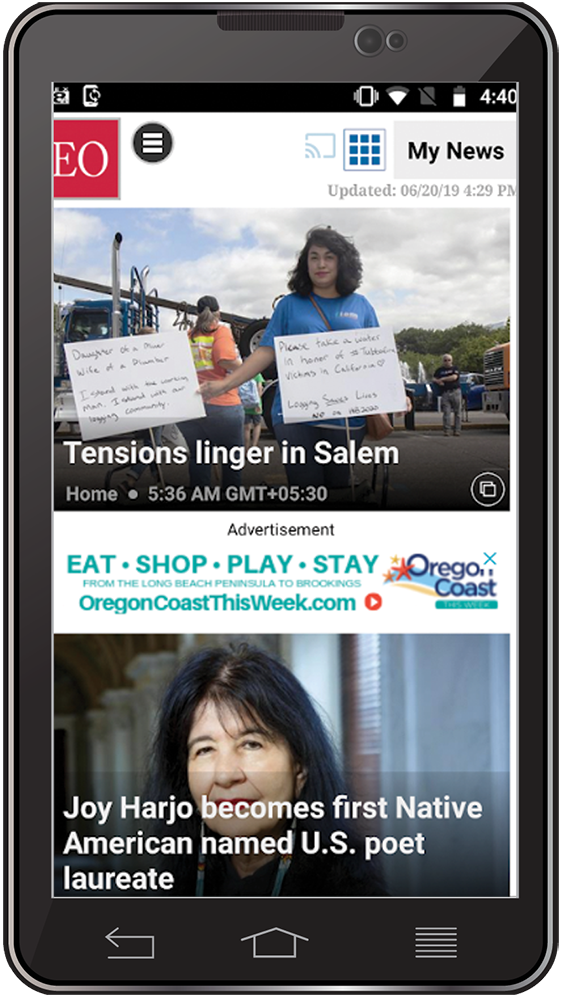 Get breaking news!
SALEM — A federal civil rights watchdog has found "systemic deficiencies" in the state's treatment of parents with disabilities.
SALEM — A business-backed effort to get Oregon voters to reduce the costs of the state's public pension system has quietly closed shop — at least for the 2020 election.
SALEM — The second of four increases in the gas tax goes into effect Jan. 1. The increase is part of House Bill 2017, the "Keep Oregon Moving" act the Oregon Legislature passed in 2017.
SALEM — Most of Oregon's largest police departments are slightly more likely to cite or arrest minorities during traffic and pedestrian stops, but the disparity isn't significant enough to war…
BEND — Republican Knute Buehler, who unsuccessfully ran for Oregon governor last year, on Tuesday became the third politician to get rid of campaign donations from Gordon Sondland.
SALEM — When Oregon residents update their addresses with the Department of Motor Vehicles, they will no longer be required to apply a sticker on their driver's license, permit or ID card as o…
SALEM — As the number of Oregon voters unaffiliated with a political party rises, so has the number of voters locked out a key part of the electoral process. Oregon's third-largest political p…
Three Oregon agriculture groups are opposing a lawsuit to expand animal rights and allow nonhuman victims to recoup damages from abusive people.
PORTLAND — The Invent Oregon Collegiate Challenge is underway as teams of students representing more than 20 colleges around Oregon work to build something new.
BEND — A man shot by police as Black Friday shoppers gathered at a north Bend shopping center has been identified as Adam L. Gilliam, 28.
SALEM — A salon in Portland, a brewery in Astoria and an industrial fabric manufacturer from Eugene now have employees with retirement programs.
Just call him Finlay. That's the name given to the first steelhead to officially climb the newly opened fish ladder at Opal Springs Hydroelectric Project, once a barrier to anadromous fish try…
SALEM — Most of the farm and forest properties made available for development in Oregon under a decade-old ballot initiative haven't yet been subdivided, according to state land use regulators.
SALEM — Oregon's new court rule intended to curb immigration arrests in state courthouses has drawn the attention of two of President Donald Trump's Cabinet officials and set up a potential le…
SALEM — Health providers are sending a message to tobacco companies gearing up to fight a proposed $2-per-pack hike on cigarette taxes in Oregon: Be prepared to spend big.
SALEM — By Christmas, crisis consultants brought on to improve Oregon's struggling foster care system are expected to wrap up their $1 million contract.
SALEM — Public defenders in Oregon may have more time to represent clients as a state agency overhauls how it pays for the constitutionally required legal help.
TIGARD — Oregon's state employee pension fund is invested in an Israeli company whose smartphone spyware has been used against dissidents, human rights defenders and journalists by repressive …
Oregon's two U.S. senators are probing the USDA over what they describe as "unintended and potentially harmful effects" of the agency's interim hemp rule, released last month.
SALEM — The Oregon Senate Republican who complained Democrats created a hostile workplace in the state Legislature has withdrawn his complaints.
SALEM — Legislators this week considered a plan intended to impose greater controls on Oregon's increasingly expensive political campaigns and reduce the influence of money on state politics.
SALEM — State police ended a protest and occupation of Gov. Kate Brown's office Thursday night by arresting 21 people for criminal trespass.
VALE — Some of the best moments from Greg Walden's tenure as a congressman happened far away from the lights and political drama of Washington, D.C., and occurred in places like Jordan Valley …
ONTARIO — As Oregon state lawmakers prepare to take up climate-change legislation once again next year, Senate Republicans are about to lose their key expert on the subject.
A dry start to the fall season is raising some concerns among state water managers about the possibility of drought returning to Oregon.
SALEM — The job of Oregon secretary of state may not bring fame or fortune, but it's an essential state post.
SALEM — Oregon's economy continues to expand and household incomes are growing, but job growth is slowing down and the risk of recession is still present.
SALEM — After years of trying, Norman Turrill of Portland thought he had finally made some progress in preventing Oregon politicians from picking their voters.
SALEM — For the third year running, Oregon leaders say they'll take a crack at regulating the state's greenhouse gas emissions in 2020. But with the monthlong legislative session set to begin …
Crews finished installing a 5-foot-tall, 3-mile-long wildlife fence at Mill-Mar Ranch in southwest Oregon on Nov. 4 to keep wolves from preying on cattle.
The Sumpter City Council voted this afternoon to fire three city employees who had been on paid administrative leave since this spring.
SALEM — The annual open enrollment for Medicare ends Dec. 7 and the Oregon Senior Health Insurance Benefits Assistance Program in the Oregon Health Insurance Marketplace offers those eligible …
SALEM — Oregon's population increased by more than 40,000 people over the last year, or 1%, according to an estimate from Portland State University's Population Research Center.
SALEM — The number of hate crimes reported in Oregon dropped in 2018 after a three-year increase, according to a new report released earlier this week by the FBI.
BEND — The Sunriver Nature Center & Observatory continues to welcome more visitors than its facilities can reasonably handle.
SALEM — As a joint committee of Washington and Oregon lawmakers considers the possibility of a new Interstate 5 bridge over the Columbia River, its members face a question: whether to rely lar…
PORTLAND — Oregon Supreme Court Chief Justice Martha Walters enacted a new rule Thursday that will make it harder for immigration agents to make civil arrests in the state's courthouses.
SALEM — The state has agreed to pay $510,000 to settle a lawsuit brought by a former deputy director at the Oregon Office of Emergency Management.
SALEM — The Department of Consumer and Business Services will be soon taking feedback from residents on prescription drug prices.
SALEM — Oregon voters may be asked next year to take the redrawing of congressional and legislative boundaries out of the hands of elected politicians.
SALEM — Diabetes medications in Oregon cost twice as much as in Canada — and more than four times as much as in Australia — according to a new report for Congress from the House Oversight and …
SALEM — After revealing last month it will take $4 billion to improve the state's ability to respond to catastrophic wildfires, Gov. Kate Brown's Council on Wildfire Response on Tuesday releas…
SALEM — Determining that police need more than a "hunch" to stop citizens, the Oregon Supreme Court has reversed a man's conviction of interfering with a peace officer.
PORTLAND — The Republican National Committee is sending mailers to some Oregon voters that mimic the look of a U.S. Census form and solicit donations for President Trump's re-election.
SALEM — Oregon's largest public employee unions have seen double-digit declines in the number of state workers paying dues, state data show.
Would designate over 1.1 million acres in Malheur County as wilderness
SALEM — An Oregon agency wants to reunite veterans or their heirs with military medals now in state custody.
PORTLAND — On Dec. 14, 2018, Aaron Cole was about to buy a new house and received an email that he thought was from his title company, directing him to make a $123,000 deposit.
SALEM — A political fight over how Oregon manages its forests and timber activity could resolved by voters next fall.
BEND — Days after putting up a billboard, the city of Bend agreed to take it down. City officials chose the image to advertise an online survey about transportation priorities, but some people…
BEND — The tusk poking out of the earth looked distinctly out of place in the gravel seam where Reid Comstock was maneuvering his excavation digger last March.
PORTLAND — The Oregon Department of Environmental Quality says smoky skies and stagnant air are expected to hang around Oregon and Southwest Washington for another week.
SALEM — In late October, the Multnomah County District Attorney's Office won the first conviction under Oregon's new hate crime law. The case involved a 50-year-old man who hurled slurs at two…
SALEM — Finding a director to run a key new division of the Oregon Health Authority vexed Pat Allen for months.