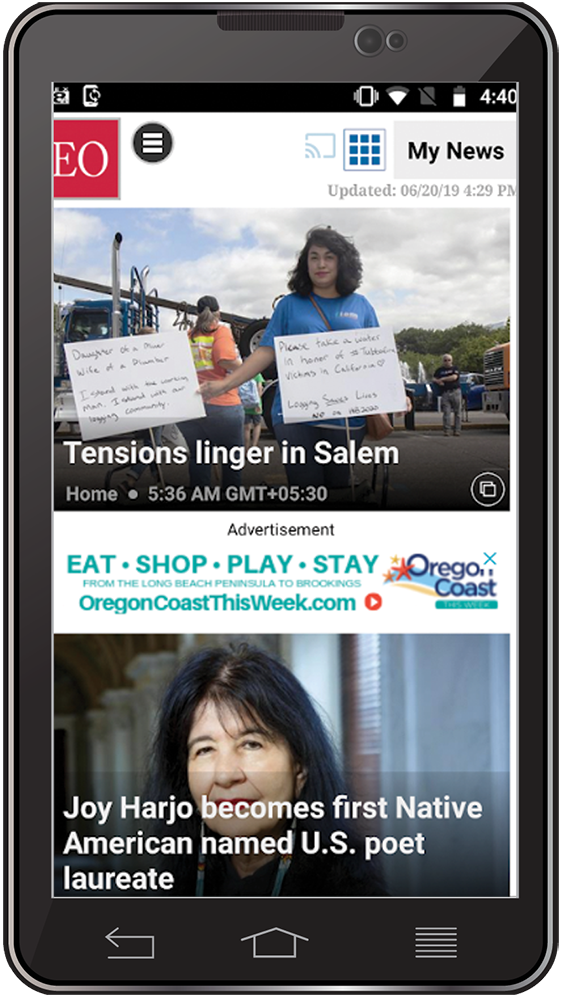 Get breaking news!
A tip of the hat to regional Republican lawmaker Rep. Greg Barreto. The Cove House of Representatives lawmaker announced he will not seek re-election in 2020.
Despite the delays and cost overruns, Pendleton's newest bridge is open for business and undergoing its finishing touches. It's a marvelous structure, complete with antique streetlights and a …
People are still talking about last month's First Draft Writers' Series and Portland poet and novelist Harold Johnson — sharing his books, wanting more. An African-American who was raised in W…
It's been almost 50 years since Americans were riveted by gavel-to-gavel live coverage of the Senate Watergate hearings that eventually led to the resignation of President Richard Nixon.
The Brookings Institution's Metropolitan Policy Program just released a study that casts serious doubt on President Trump's insistence that the economy is improving, and that the employment ma…
A recent study produced by the Knight Foundation and Gallup probably didn't grab the attention of a lot of county residents, but it sure caught our gaze.
Whenever a Catholic runs or is nominated for public office, he or she has to endure a now-familiar vetting process revolving around one thing: abortion rights. To make progressives happy, cand…
Oregon's deputy secretary of state has a choice to make.
When people spend other people's money, they can be less than finicky. And so it seems with workers at the state of Oregon.
Journalists relentlessly pursue the truth in order to provide citizens with the information they need to be self-governing. And yet, for journalists, doing that work can be risky, dangerous an…
The lesson of the 2019 state elections confirmed the lesson of the 2018 congressional midterms: Donald Trump can stage all the demagogic rallies he wants, but he's powerless to reverse the GOP…
The local community came out in force Monday to honor area veterans, a clear sign that Umatilla County hasn't forgotten those who made a sacrifice and a commitment to our nation.
Joe Biden is going to win the Democratic nomination for president. I wouldn't run to your bookie with this information. My track record is spotty, at best. But I'll be shocked if I'm wrong and…
If there's anything that frustrates Oregonians, it's politicians or government employees using their position for personal advantage.
Road tax should be paid by those complaining the loudest
A tip of the hat to our brave men and women of the Armed Forces — past, present and future — who deserve our praise, our awareness and our thanks.
Albert and I worked together on a project near Walden Pond in north-central Massachusetts. We were hired by a developer to help with chopping Mary Todd Lincoln's (Abe's wife) family farm into …
A president teetering on the brink of impeachment … whose public approval is as much as 15 points underwater … who trails the leading opposition candidates … who may cost his party its majorit…
Filling the role of a local politician isn't easy.
There's a kernel of truth in some of President Donald Trump's recent tweets about this year's California wildfires, but just a bit: Overall, the president's tweets show the same general disreg…
The men and women who have selflessly served our great nation deserve the utmost support and respect. While every Veterans Day we pay special respect and honor to our nation's finest by visiti…
Hermiston School District patrons received a fair bit of good news Wednesday morning.
I love to study our nation's history through the lens of our military veterans.
A big shout-out of praise to the volunteers who arrived at Olney Cemetery last weekend to spruce it up before Veterans Day.
Happily, U.S. Representative Greg Walden announced he's quitting, with 14 others so far. In regard to the quitters of 2020, I've had a revelation. This revelation highlights a motivator about …
Since 1999, a lot has changed in Oregon: The Ducks became a football powerhouse, thousands of Californians ignored Gov. McCall's admonition and decided to visit and stay, and tech fully took o…
If you live in the Lexington area and want to have a voice in local politics, now is your chance.
As a fifth-generation Eastern Oregonian, I'm a strong supporter of Oregon's clean, wild rivers. I was pleased to read on Oct. 3 that Sen. Ron Wyden is seeking nominations from the public for n…
On Nov. 11, 1969, Operation Fulton Square in the Quang Tri Province was in full force with the assistance of the 1st Marine Division, 101st Airborne Division and the 5th Infantry Division. Thi…
A tip of the hat to those who take the time to participate in democracy. It is, after all, one key to the health of our nation. That is why it is always with a certain degree of frustration we…
This letter is about the school bond that we are going to try to pass next week. I'm speaking from the perspective of a middle school student. I believe we should support this bond because the…
It happens every fall. After only cursory interest in the national pastime during the regular season, I start paying more attention to baseball as the World Series approaches. As a kid, I was …
Maybe they thought they were standing up for principle.
Oregon Republicans most likely understood at the end of the last session that the controversial carbon emission issue wasn't going to go away.
Donald Trump was inevitable, an overdue inoculation to the two-century-plus experiment of American democracy with which we have gotten by. In our outdated system, the Trump presidency arrived …
In 2011, I was the first in my family to graduate high school and go on to college.
"Amazing Grace," done by bagpipes, seemed worth a click as I thought about Memorial Day last spring. Part way through the montage honoring our veterans was a beautiful young woman lying on a f…
In the West, few resources evoke more passion than water. The reason is obvious: Everything comes down to the quantity and quality of water. 
City Hall has completed its presentation to all the civic groups that control the ballot boxes — by that, I mean those people most likely to vote. So, now it's the general public's turn. If hi…
The multifamily and single-family housing markets are closely related. What's good for one can be good for the other. In a normal free market housing cycle, jobs drive both markets. When new j…
Pendleton residents have long been concerned with potholes and maintenance of city streets, and for good reason. The Pavement Management Budget Options Report completed in 2018 revealed that c…