SALEM — State parks in Oregon will be open for free day use on Saturday, June 6.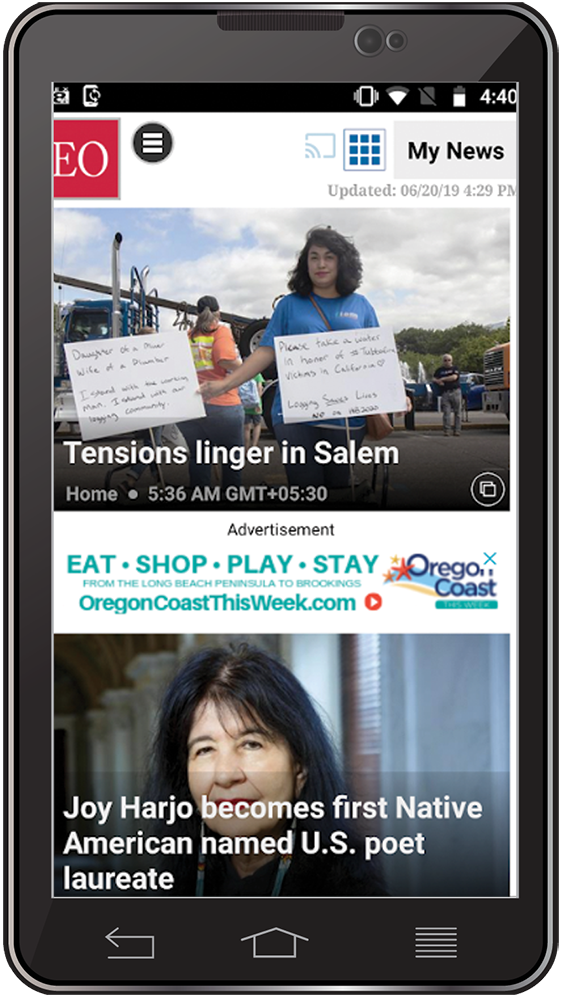 Get breaking news!
WALLOWA LAKE — Out-of-towners from Idaho, Montana, Washington, Arizona, Nevada, California as well as many places in Oregon were evident over the weekend at Wallowa Lake State Park. Day use ar…
PENDLETON — Contractors have started removing the final remaining infrastructure at the Dale administrative site, including utilities, water system, waste water system, water system building, …
BROOKINGS — I'm waist-deep in the surging surf. Low tide was an hour ago, and the tide is coming back in. I have maybe 30 minutes before I have to find higher ground, and I've caught nothing n…
LA GRANDE — The new Eastern Oregon University women's lacrosse program added 12 more athletes to its roster, bringing the number of players in the first-year program to 13.
Last weekend, after all the heavy rain the week before, we took a brief run up Cabbage Hill to see what more may be in bloom now. The area around Deadman Pass was a treasure chest of wildflowe…
MOUNT HOOD — Oregon's tallest mountain will reopen for recreation over two months after trailheads and day-use areas were closed amid the coronavirus pandemic.
BOARDMAN — When is a wildlife refuge not really a refuge? How about when the wildlife inhabiting it cannot be considered safe from hunting?
LA GRANDE — When the coronavirus pandemic led to the cancellation of race after race that cyclists Elijah Romer and Sean Lerner had planned to enter, the La Grande duo decided to improvise.
BAKER CITY — After spending his fall under the Friday Night Lights, and his winter on the hardwood, Baker High School senior Spencer Shirtcliff was excited to find himself heading back to the …
SPRAGUE RIVER — James Dyson sucked for a long time before he finally made something that didn't suck only because — and this is important — it sucked.
Last week I listed four wildflowers that can be found in Pendleton, mostly around open hillsides and near the outer edges of the city. Here are four more Pendleton wildflowers that are current…
PENDLETON — The North Fork John Day Ranger District has temporarily closed Forest Service Road 54 due to several significant washouts caused by the recent rainfall and flooding, according to a…
More than two months since the sports world went into hibernation, plans for the return of athletics have started to take shape.
PENDLETON — My Tundra bounced up onto the old wood plank bridge. The dark planks rocked and popped beneath the weight. I was pushing the width limit. My hands, white-knuckled on the wheel, man…
SALEM — In the past week, Oregon reopened fishing to nonresidents and began allowing access to certain state parks, boat ramps and beaches. In a stunning twist of fate absolutely no one saw co…
PENDLETON — As spring progresses into summer, it's nice to know there are native wildflowers blooming much closer to home. Pendleton, for example, has many that can be found within in the city…
PENDLETON — It's 1852. A few pioneers have staked claims in the Blue Mountains although most of the trains roll on to the Willamette Valley. The stars and stripes are flying now in this part o…
With the really warm weather and the numbers of plants blooming at lower elevations, I decided it was time to check more of the higher elevations. We turned off Interstate 84 at Spring Creek R…
EDMONDS, Wash. — Picture the weirdest fish you can think of. Nope. Weirder. The spotted ratfish, Hydrolagus colliei, tops my list.
MILTON-FREEWATER — The Milton-Freewater Unified School District has hired Jorge Estrada as the new head football coach at McLoughlin High School for the 2020-21 school year, superintendent Aar…
HERMISTON — Hermiston will enter the 2021 softball season with a new head coach.
SALEM — Several Oregon recreation areas and parks are beginning to reopen with limited day use access.
A bacterial illness has spread through Baker County's biggest herd of bighorn sheep, but a state wildlife biologist said it won't be clear until later this year how severe the death toll is li…
UMATILLA — Two events in my treasure chest of childhood memories include the first trout brought flopping to my canvas creel and the summer afternoon a lop-ear Border collie mutt named Dagwood…
Last week included a trip up Yellowjacket Road southwest of Pilot Rock. There were lots of wildflowers in bloom along the road banks from the time we reached the graveled portion until we reac…
KLAMATH FALLS — This week is May Day, the holiday on which people in the pre-television world grabbed brightly colored ribbons and danced in a circle around a pole. Normally, I humorize things…
PENDLETON — Lane Maher has a routine he uses to train for his track and field season every year.
SALEM — Nonresidents may fish and hunt in Oregon again beginning Tuesday, May 5. Recreational clamming and crabbing will remain closed to nonresidents until further notice.
PENDLETON — For avid mushroom pickers, spring begins when fungi return to the forest. Personal-use mushroom picking is free and does not require a permit or payment under the legal limits, whi…
PENDLETON — Two members of Heppner's state-title winning football team and a standout that helped Pilot Rock/Nixyaawii to the state playoffs were among 20 scholar-athletes at the 2A-4A level —…
PENDLETON — Whitworth University senior and former Pendleton High School standout Reilly Hegarty was among 96 NCAA Division III golfers to be named to their respective all-region teams last we…
My wife and I took a quick trip up the Umatilla River last weekend to check out what may be in bloom there. Had we known the degree of ongoing reconstruction we would not have gone there, and …
The trout ripped line from my probably too-loose drag, as I battled it ever closer to my net. Ordinarily, nothing short of a sunbathing supermodel calling my name could distract me from this, …
PENDLETON — During these days of house arrest, I am lucky enough to telework in my basement "deer room," yet maintaining sanity within the confines of my own property is largely left to sunny …
Two months ago, I was making plans to set up weekly field trips through the spring and summer, to be sponsored by the Native Plant Society and by Flora ID. However, keeping "social distance" o…
Washington closed all fishing through May 4.
UNION — The Eastern Oregon Livestock Show announced Friday it is canceling this year's rodeo due to the COVID-19 pandemic.
When you're serious about social distancing — as we all should be — it's helpful to live where public land is measured in the millions of acres.
PENDLETON — My friend, fellow writer and turkey hunter Troy Rodakowski, pointed up the hill at the spot where he figured the turkey was. We had just crossed the stream and were now trying to h…
HERMISTON — There's always "that guy" who others don't want to step on the mat with.
LA GRANDE — Kaylee Cope may not get to compete again for the Griswold track and field team, but that does not mean her running career is over.
Name: Longhorn Plectritis
FORT ERIE, Ontario. — Borders being closed isn't a new phenomenon on the world's stage, but in the past decade, border closures in the United States have been few and far between.
HERMISTON — Becky Wadekamper is returning to the sidelines at Hermiston High School.
In the days leading up to Wednesday, the executive director of the Oregon School Activities Association, Peter Weber, began drafting a press release that he had never envisioned having to writ…
YACHATS — It is late March on the Central Oregon Coast. The rock shelf below our rental condo echoes a hollow thump with each incoming wave. I sip coffee, peer at the crashing surf, and ponder…
MISSION — Mick Schimmel attributes a lot of his success on the court to family.
On February 12, 2020, the Dow Jones Industrial Average (DJIA) closed at an all-time high of 29,551.42. In the month that followed, it would record eight of the 10 largest single-day drops in h…
Brian Ratliff is investigating a medical mystery that threatens the future of Baker County's biggest herd of bighorn sheep.
The coronavirus, or COVID-19, is the constant topic of conversation for the last few weeks and will continue to be for an unknown time.
IONE — Cross-country and track and field are taking two small-town girls to the big city.
TOLEDO — Three Blue Mountain Conference boys basketball players were named to the 2A All-State team, which is voted on by 2A coaches throughout the state.
HERMISTON — First-year coaches usually are left with a roster devoid of talent and leadership.
BROOKINGS — In a remarkably short time period, COVID-19 has shut the door on so many things. Without warning or premise, circumstances beyond our control have paused the very lives we took for…