EUGENE — Pac-12 sports are one step closer to returning in Oregon.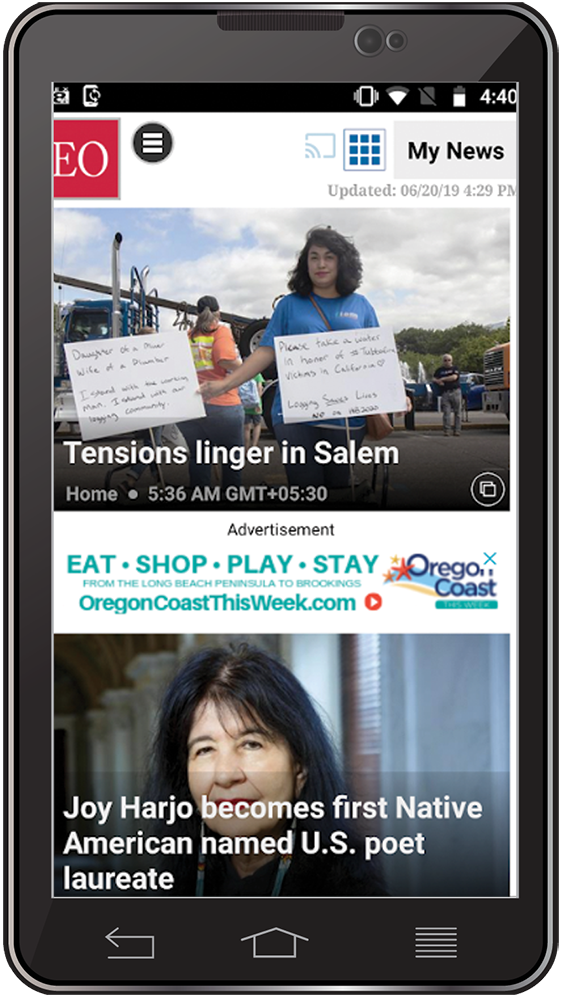 Get breaking news!
PENDLETON — Whitworth University senior and former Pendleton High School standout Reilly Hegarty was among 96 NCAA Division III golfers to be named to their respective all-region teams last we…
LA GRANDE — Eastern Oregon University has its first ever women's lacrosse coach.
Quarterbacks Kyler Murray of Oklahoma, Tua Tagovailoa of Alabama and Dwayne Haskins Jr. of Ohio State are the finalists for The Associated Press college football Player of the Year.
After leading Utah to an unbeaten season in 2004, Urban Meyer had a choice to make. He could become the coach at Notre Dame — a dream job, he once called it — or at Florida.
COLUMBUS, Ohio (AP) — When Urban Meyer started thinking about retiring, he realized he already had the ideal successor right there in the building in quarterbacks coach Ryan Day. So Ohio State…
NEW YORK (AP) — After earning what coach Mike White called the "biggest win thus far in a very early season," Florida is reveling.
LAWRENCE, Kan. (AP) — Kansas endured yet another slow start — plus the loss of a player with NBA aspirations — before finally pulling away from a small-conference opponent.
BOSTON (AP) — Providence coach Ed Cooley's team needed a clutch 3-pointer at the end of regulation.
COLLEGE PARK, Md. (AP) — Maryland hired Alabama offensive coordinator Mike Locksley as its football coach Tuesday night, bringing home a familiar presence after the most tumultuous year in the…
CLEMSON, S.C. (AP) — Marcquise Reed tossed in 21 points with three assists and three steals and Elijah Thomas posted a double-double as Clemson outlasted Saint Peter's 65-60 on Tuesday night.
NEW YORK (AP) — Mike Brey couldn't help but be envious.
SYRACUSE, N.Y. (AP) — Syracuse's 2-3 zone has claimed another victim.
NEWARK, N.J. (AP) — Quincy McKnight scored 18 points, Sandro Mamukelashvili had 14 points and 11 rebounds, and Seton Hall beat New Hampshire 77-57 on Tuesday night for the program's 1,500th win.
CLEMSON, S.C. (AP) — Former Clemson starting quarterback Kelly Bryant says he'll play his final season at Missouri.
CHAPEL HILL, N.C. (AP) — North Carolina receiver Anthony Ratliff-Williams says he's skipping his final season to pursue an NFL career.
MILWAUKEE (AP) — Markus Howard scored 21 points and Marquette jumped out to a big lead early and held off UTEP 76-69 on Tuesday night.
EVANSTON, Ill. (AP) — Jordan Poole and Michigan finally faced some adversity Tuesday night.
TUSCALOOSA, Ala. (AP) — Georgia State stormed back from a 22-point second half deficit to knock off Alabama 83-80 on a walk-off 3-pointer from forward Malik Benlevi.
STATE COLLEGE, Pa. (AP) — Archie Miller was thankful his team could turn a sluggish start into an early, unbeaten advantage in the Big Ten.
NEW YORK (AP) — Clemson star defensive tackle Christian Wilkins won the William V. Campbell Trophy on Tuesday night, an award honoring college football's top scholar-athlete.
Illinois' recent seasons belie a program with a rich history that includes ranking in the top 15 in all-time wins and making 30 NCAA Tournament appearances and five Final Fours.
NORMAN, Okla. (AP) — Oklahoma's Kyler Murray pulled off an impressive triple play during a brutal 30-hour stretch in April.
LAWRENCE, Kan. (AP) — Offensive coordinator Chip Lindsey is leaving Auburn to take the same job at Kansas.
Here are excerpts from recent editorials in Texas newspapers:
RALEIGH, N.C. (AP) — No. 2 Clemson once again dominated the Associated Press All-Atlantic Coast Conference teams and individual awards released Tuesday.
COLUMBUS, Ohio (AP) — The Latest on Ohio State coach Urban Meyer's retirement: (all times Eastern):
RALEIGH, N.C. (AP) — Furman coach Bob Richey wants his players to savor the program's first appearance in the AP Top 25 poll, yet also remember how much work it took to get there.
CHARLOTTESVILLE, Va. (AP) — De'Andre Hunter and Kyle Guy scored 15 points each and Virginia beat Morgan State 83-45 on Monday night.
EAST LANSING, Mich. (AP) — Nick Ward used his power to gain position and his touch to score, putting together a perfect game from the field.
WASHINGTON (AP) — Freshman James Akinjo scored 19 points, Jessie Govan had 17 points and 10 rebounds and Georgetown beat Liberty 88-78 on Monday night
LYNCHBURG, Va. (AP) — Liberty coach Turner Gill is retiring.
NEW YORK (AP) — Alabama's Tua Tagovailoa, Oklahoma's Kyler Murray and Ohio State's Dwayne Haskins are the finalists for the Heisman Trophy, ensuring a quarterback will win the award for the 16…
LOUISVILLE, Ky. (AP) — Louisville has officially hired Scott Satterfield as its head football coach.
AMHERST, Mass. (AP) — Massachusetts hired Florida State offensive coordinator Walt Bell on Monday as its new head coach.
Louisville has tabbed Appalachian State's Scott Satterfield to be the Cardinals' next football coach.
KANSAS CITY, Mo. (AP) — Kansas State has gone through the unenviable process of replacing a coaching great before, and the results were so disappointing that Bill Snyder came out of retirement…
MADISON, Wis. (AP) — Wisconsin coach Greg Gard didn't need to be reminded that the No. 12 Badgers used a second-half rally for the third straight game to secure a victory.
EAST LANSING, Mich. (AP) — Nick Ward made all 10 of his shots, scored a career-high 26 points and grabbed nine rebounds to lead No. 10 Michigan State to a 90-68 win over No. 18 Iowa on Monday night.
PITTSBURGH (AP) — Their best player on the sideline in sweats while playing their sixth straight game on the road, it would have been easy, even explainable for Niagara to play the role of pus…
AMES, Iowa (AP) — The thinking when Iowa State suspended sophomore forward Cam Lard until December was that the Cyclones would need to find a way to survive until they got their uber-talented …
ATHENS, Ga. (AP) — Tyree Crump scored a career-high 25 points, Nicolas Claxton added 15 points and nine rebounds, and Georgia had little trouble beating Texas Southern 92-75 on Monday night.
COLUMBUS, Ohio (AP) — As Urban Meyer walked off the field after Ohio State routed Michigan, he was pondering his future and when to make a decision about when to call it quits.
TALLAHASSEE, Fla. (AP) — Florida State coach Leonard Hamilton keeps saying his team is a work in progress. Part of the equation now is learning to handle high expectations.
CHICAGO (AP) — Femi Olujobi had a season-high 16 points on 6-of-7 shooting and Eli Cain scored 15 to help DePaul beat Florida A&M 65-50 Monday night.
PASADENA, Calif. (AP) — Ohio State's consolation prize for missing out on the College Football Playoff is a classic matchup in the Granddaddy of Them All.
Duke (7-5, Atlantic Coast Conference) vs. Temple (8-4, American Athletic Conference), Dec. 27, 1:30 p.m. EST (ESPN).
Georgia Tech (7-5, Atlantic Coast Conference) vs. Minnesota (6-6, Big Ten), Dec. 26, 5:15 p.m. EST (ESPN).
LINCOLN, Neb. (AP) — James Palmer Jr. only made four field goals Sunday, but the Nebraska guard hit 12 of his 14 free throws to lead the Huskers to a 75-60 win over Illinois.
Virginia Tech (6-6, ACC) vs. Cincinnati (10-2, AAC), noon, EST, Dec. 31.
COLUMBUS, Ohio (AP) — Ohio State wasted no time staking its claim as the team to beat in the Big Ten.
ATLANTA (AP) — Paul Johnson is heading to Motown for his final game as Georgia Tech's head coach.