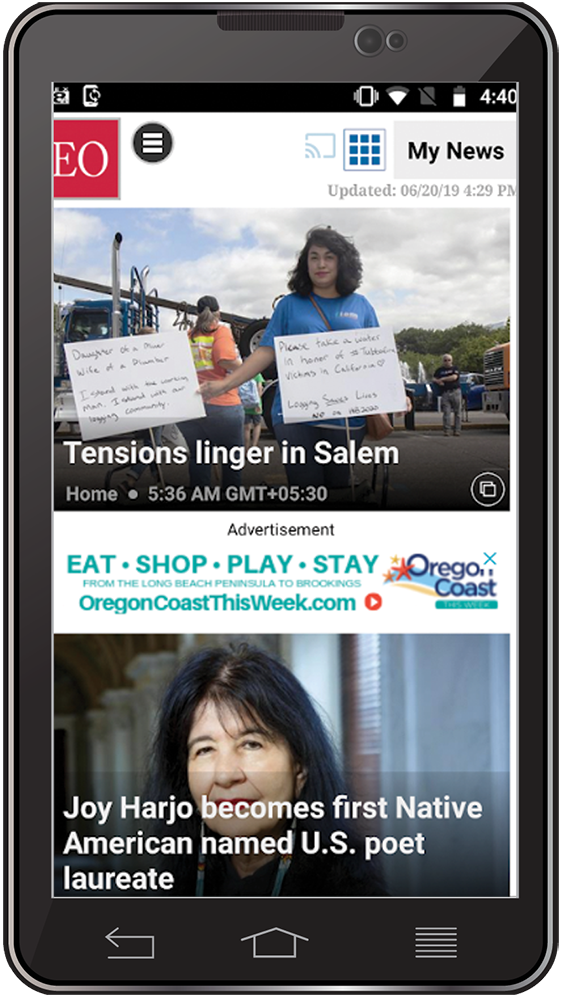 Get breaking news!
HERMISTON — While this season has not gone as planned for the Hermiston football team, there is one constant every Friday night — Ryan Arnold.
PILOT ROCK — One of the biggest football games in Eastern Oregon on Friday night will be played by two of the smaller teams.
PENDLETON — After two weeks on the road, the Pendleton Bucks are ready to come home. And for their homecoming game, the stakes couldn't be higher.
KENNEWICK, Wash. — On an ideal day for a run, the Hermiston boys and girls cross-country teams posted some of their best times of the season Wednesday at the second Mid-Columbia Conference mee…
HERMISTON — October is Breast Cancer Awareness Month around the country, and the Hermiston volleyball team is doing its part in helping bring awareness to the cause.
WESTON-MCEWEN — On Oct. 1, Weston-McEwen couldn't hang on at Heppner, falling in five, thrilling sets after winning the opening two.
PILOT ROCK — The Rockets first got a glimpse of Zuri Reeser's skills in September, when the Stanfield outside hitter aided in handing Pilot Rock a three-set road loss.
HERMISTON — Last year, Amanda Nygard was faced with a tough choice.
UNION — The Blue Mountain Conference volleyball coaches were hoping there would be a little separation in the league standings after Saturday's matches, but instead there is a logjam for secon…
Baseball is coming back to Eastern Oregon University.
Adrian/Jordan Valley 84, Powder Valley 26
IRRIGON — The host Knights couldn't break into the end zone even once, but the Heppner Mustangs put up a 38-point first quarter to bury them early, anyway.
HERMISTON — A handful of mistakes were costly for the Hermiston Bulldogs on Friday night, and Chiawana took advantage of most of them.
PILOT ROCK — It may have taken two quarters, but the Rockets finally saw liftoff as a third-quarter rally launched them to a home victory.
MILWAUKIE — Pendleton secured at least a tie for the Special District 1-East title Thursday night with a 34-0 road victory over La Salle Prep.
JOHN DAY — Sydney Wilson had 12 kills, 19 digs and three aces Thursday to lead Heppner to a 25-12, 26-24, 25-20 Blue Mountain Conference win over Grant Union.
STANFIELD — Things are getting tight in the Blue Mountain Conference volleyball standings.
Cydney Sanchez and Amand Nygard, of Hermiston, run a hill during Thursday's Bulldog Fest cross-country race.
HERMISTON — In a cross-country meet that pit 10 area schools against each other, it was Hermiston who emerged the top dogs.
STANFIELD — You'll have to excuse Stanfield for being excited about its volleyball team.
HERMISTON — There's no way to sugar-coat it — Hermiston will have its hands full Friday night when Chiawana visits Kennison Field.
PILOT ROCK — Tyasin Burns has made a name for himself as a basketball player at Nixyaawii High School, helping the Golden Eagles to a Class 1A state title in March.
COEUR D'ALENE, Idaho — Mariah Moulton had a match-high 13 kills, but it was not enough to help the Blue Mountain Timberwolves from falling in three to their North Idaho hosts on Wednesday.
NORTH LAKE TAHOE — Richard Boyer has always been competitive. He competed in football, basketball and track at Long Creek High School, and was selected to play in the 1982 East-West Shrine Game.
HERMISTON — The Hermiston High School Athletics Department and Simmons Insurance Agency are teaming up for a fundraiser to raise money for breast cancer awareness during the Friday Hermiston H…
MILWAUKIE — Both Pendleton and La Salle Prep will hit the field on Friday night with big wins fresh under their belts.
HERMISTON — The Hanford Falcons will be seeing Grace Vertrees in their nightmares.
PENDLETON — Tied a set a piece and down 20-14 in the third set to Helix, Nixyaawii needed a run from Allyson Maddern at the service line.
PENDLETON — The Bucks and Tigers had already clashed once before this season, where it was Pendleton's volleyball team that made off with the five-set win. In Tuesday's rematch, the Bucks swep…
HERMISTON — Hermiston hadn't faced Kamiakin since the the preseason, when the the Braves handed the Bulldogs a 6-0 loss.
CONDON — After a tough loss at South Wasco County just the day prior, the Big Sky League's top-ranked Echo Cougars were back in fine form Saturday afternoon.
MILWAUKIE — Tanner Sweek threw two touchdown passes, and Zaanan Bane ran for three scores as Pendleton beat Milwaukie 47-0 on the road in Special District 1-East action Friday night.
IMBLER — Junior Tyasin Burns ran for 311 yards and four touchdowns Friday to lead Pilot Rock/Nixyaawii to a 74-26 Special District 3 road victory over Imbler.
STANFIELD — The Tigers were slow to start, but ended Friday's Blue Mountain Conference showdown in spectacular fashion.
UMATILLA — For the better part of three quarters Friday afternoon, Umatilla went toe-to-toe with the Nyssa Bulldogs.
KENNEWICK, Wash. — Welcome back, Sean Stewart.
MAUPIN — Since Teren Humphrey took over two weeks ago as head coach for Ione/Arlington volleyball, the team has had just four practices under its new coaching staff.
HERMISTON — Hermiston played in bursts of greatness, but it was not enough to top the consistency of Kamiakin.
PASCO — Mariah Moulton had 29 kills and put 32 points on the board as the Blue Mountain Community College volleyball team survived a five-set nail-biter at Columbia Basin on Wednesday.
MILWAUKIE — After two back-to-back games at home, the Pendleton High School football team is ready to get back on the road.
PENDLETON — Calgary Smith grew up in the shadow of the Pendleton Round-Up on a ranch just outside the small town of Adams.
STANFIELD — Blue Mountain Conference play opens Friday, and the hot game of the night is Weston-McEwen at Stanfield.
HERMISTON — For one brief moment Tuesday night, the Hermiston Bulldogs showed their true colors.
HERMISTON — There was nary a soul left at Kennison Stadium on Friday night when Garrett Walchli came out in full gear and started running up and down the yard lines.
PENDLETON — The hint of uncertainty could be felt on occasion throughout Warberg Court on Tuesday night, but Pendleton's volleyball team ended the match by casting all doubts aside.
HEPPNER — In a classic Blue Mountain Conference matchup between the two programs, Heppner came back from a two set deficit to win a gritty, defensive volleyball match at home against Weston-Mc…