RENTON, Wash. — The Seattle Seahawks have reunited with Marshawn Lynch.
LANSING, Mich. (AP) — Michigan lawmakers on Tuesday advanced more bills inspired by the Larry Nassar sexual abuse case — voting to ease the prosecution of alleged abusers, stiffen child pornog…
LUMBERTON, N.C. (AP) — For more than 25 years, the man identified as the triggerman in the death of Michael Jordan's father has repeatedly declared his innocence in the murder.
After leading Utah to an unbeaten season in 2004, Urban Meyer had a choice to make. He could become the coach at Notre Dame — a dream job, he once called it — or at Florida.
COLUMBUS, Ohio (AP) — When Urban Meyer started thinking about retiring, he realized he already had the ideal successor right there in the building in quarterbacks coach Ryan Day. So Ohio State…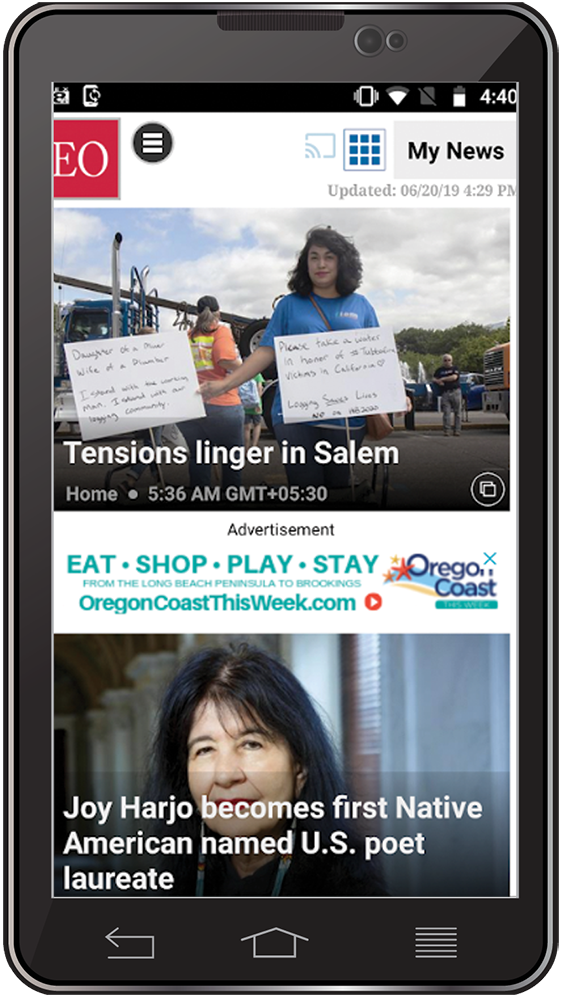 Get breaking news!
BUENOS AIRES, Argentina (AP) — Argentina's proud soccer tradition has been sullied by its fervent, fanatical fans.
SOUTHAMPTON, England (AP) — Southampton hired Ralph Hasenhuettl as its fourth permanent manager in 18 months on Wednesday, tasked with developing the talent to revive the struggling Premier Le…
TOKYO (AP) — IOC President Thomas Bach and other International Olympic Committee members are calling Tokyo the best prepared host city in memory.
SEA ISLAND, Ga. (AP) — Seattle's NHL expansion team has its roots in Dave Tippett's computer.
PLYMOUTH, Mich. (AP) — Jack Hughes draws a crowd.
LOS ANGELES (AP) — Credit the Arizona Coyotes' four-game winning streak to rookie goaltender Adin Hill. Or maybe newly acquired center Nick Schmaltz.
VANCOUVER, British Columbia (AP) — A big advantage on special teams was the difference Tuesday night for the Minnesota Wild.
215, Tyreek Hill, KAN at LA 11/19 (10 rec., 2 TD)
LAS VEGAS (AP) — Vegas' Nate Schmidt has acknowledged there are times that playing hockey isn't fun, including losing to the Washington Capitals in the Stanley Cup finals.
BUFFALO, N.Y. (AP) — Auston Matthews scored his second goal with three seconds on the clock in overtime, and the Toronto Maple Leafs matched their best start in 84 years with a 4-3 victory ove…
SALT LAKE CITY (AP) — Kyle Korver is back, and suddenly the Utah Jazz are sinking shots.
BOULDER, Colo. (AP) — Colorado coach Tad Boyle had a little inside information for his team: Work the ball underneath to Evan Battey.
NEW YORK (AP) — After earning what coach Mike White called the "biggest win thus far in a very early season," Florida is reveling.
BUFFALO, N.Y. (AP) — Having already missed 14 games with a shoulder injury, Toronto Maple Leafs forward Auston Matthews wasn't going to let a little fatigue prevent him from jumping into the p…
MONTREAL (AP) — Jonathan Drouin and Max Domi simplified their games night by putting more shots on net.
TUSCALOOSA, Ala. (AP) — Georgia State stormed back from a 22-point second half deficit to knock off Alabama 83-80 on a walk-off 3-pointer from forward Malik Benlevi.
SUNRISE, Fla. (AP) — The Florida Panthers are glad to have Roberto Luongo back in goal.
LONDON (AP) — European soccer's leadership has an initial conclusion on leaked Manchester City correspondence: The club has been misleading UEFA over its finances.
LAWRENCE, Kan. (AP) — Kansas endured yet another slow start — plus the loss of a player with NBA aspirations — before finally pulling away from a small-conference opponent.
STARKVILLE, Miss. (AP) — Lamar Peters knows how to distribute the ball to his teammates. He's also smart enough — and getting good enough — to know when he should just keep it and let the 3-po…
NEW YORK (AP) — The Winnipeg Jets are finding ways to win late during their best stretch of the season.
CLEMSON, S.C. (AP) — Marcquise Reed tossed in 21 points with three assists and three steals and Elijah Thomas posted a double-double as Clemson outlasted Saint Peter's 65-60 on Tuesday night.
STATE COLLEGE, Pa. (AP) — Archie Miller was thankful his team could turn a sluggish start into an early, unbeaten advantage in the Big Ten.
NEW YORK (AP) — Mike Brey couldn't help but be envious.
SYRACUSE, N.Y. (AP) — Syracuse's 2-3 zone has claimed another victim.
LOUISVILLE, Ky. (AP) — Asia Durr scored 25 points, Arica Carter had 16 and No. 5 Louisville's defense stifled UT Martin in a 102-62 rout on Tuesday night.
ELON, N.C. (AP) — Furman has no margin for error if it wants to stay in the AP Top 25. But the strain of that situation wasn't evident in the program's debut as a ranked team.
CINCINNATI (AP) — Trevon Scott scored a career-high 22 points as part of his second double-double on Tuesday night, and Cincinnati's bigger front line dominated in a 78-65 victory over Norther…
NASHVILLE, Tenn. (AP) — The Tennessee Titans' trust in their young receivers may be starting to pay off.
FRISCO, Texas (AP) — The PGA of America is leaving Florida for a $520 million development in the Dallas area that will include a 500-room hotel, a massive conference center and two golf course…
MONTGOMERY, Ala. (AP) — WBC heavyweight champion Deontay Wilder says he wants a rematch with Tyson Fury "ASAP."
NEW YORK (AP) — Gregg Berhalter promises to transform the U.S. national team into a pressing, attack-minded group the Americans rarely have been.
EVANSTON, Ill. (AP) — Ignas Brazdeikis scored 13 of his 23 points in the second half and Jordan Poole made two big plays in the last 2 1/2 minutes to help No. 5 Michigan hold off Northwestern …
MIAMI (AP) — Aaron Gordon and the Orlando Magic added to Miami's rising level of frustration.
DETROIT (AP) — Tampa Bay Lightning goalie Edward Pasquale gave up five goals in his NHL debut — and still won the game.
COLUMBIA, Mo. (AP) — Jeremiah Tilmon posted 10 points and 12 rebounds — his second double-double this season — to lead Missouri to a 65-45 victory over UT Arlington on Tuesday night.
ELON, N.C. (AP) — Alex Hunter scored all of his 18 points in the second half, and No. 25 Furman won its first game since the program's debut in the AP Top 25, 98-77 over Elon on Tuesday night.